Guillaume COCHINAIRE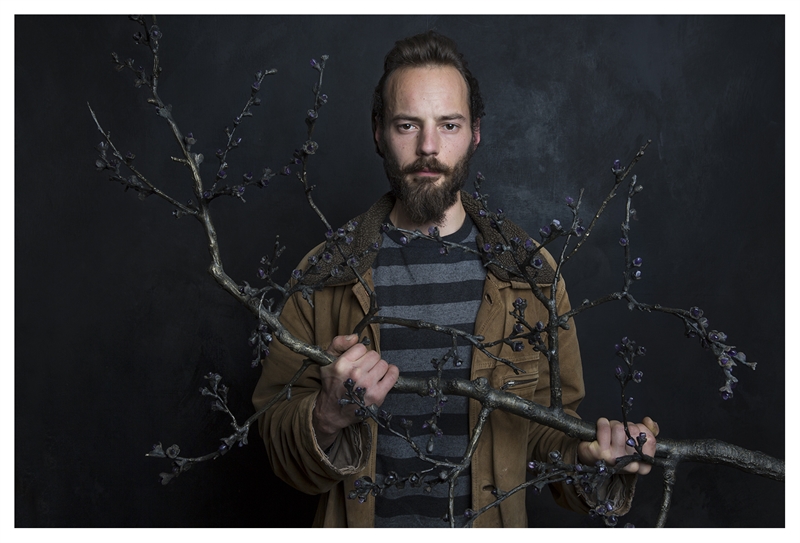 born in 1987 in Nancy (East of France)
gratuate of the Ecole Nationale d'Art de
Nancy in 2012
Artist statement:
"My work consists in customising or in putting together particular objects, with
a certain constance in using what we say are noble materials, fonctional objects
and natural forms. I set in place an action or the tools of an action, from wich at
first sight the absurd characteristics reflect something of the human condition but
furthermore allows the miscibility of concepts such as time and space. My fondamental
interest for the question of interpretation as a process on one hand sensitive
and on the other intellectual leads me to the "acheiropoïete" images, those images
not-made by the hand of man."
Art resume
- "Monster Munch", Museum of Fine Arts of Nancy (collective exhibition).
- "Biennale de l'Image de Nancy", Gallery 9 and My Monkey gallery (group exhibition).
- National Diploma of Plastic Art at the Nancy National School of Art (mention of the jury).
- Erasmus one-year stay in Ostrava in the Czech Republic.
- production of a video clip "Plant a Seed" for Fernando Saunders (Summit Music, EMI)
and broadcast on TV3 in Switzerland, on MTV and TV2 Hungary and published in the Czech magazine Muzikus.
- Video-Art contest of art schools of the Great East at the Center Pompidou Metz.
- National Superior Diploma of Plastic Studies (congratulations of the jury).
- "Arts Prize Rotary Club Lorraine-Haut-Marne" (winner category installation & video).
- "First the forests", op. 3, La Maison Lorrentine: discrete art center (festival).
- "Your Attention Student Works", Municipal Library of Nancy (group exhibition).
- "Sites in lines", 1st prize of the public joint and 2nd price of the jury, Belgium (symposium of sculpture).
- "PanOrama, The Parc des Coteaux en Biennale", Bordeaux (festival).
- "Sentes" at Ramillies in Walloon Brabant, Belgium (permanent installation of Reptilience).
- "Archipelago", Galerie Neuf in Nancy (exhibition of the laureates of the Rotary Arts Prize).
- "From here / distance and back", NaMiMa gallery at ENSA Nancy (exhibition of former students).
- Art and Landscape, Artigues-Près-Bordeaux meetings (group exhibition).
- "Indigenous, wild, foreign", public prize, Meisenthal, Moselle (festival of the association Artopie).
- Loustock Festival, first edition, Haut du Tôt, Hautes Vosges.
- Animation of a stop-motion animation cinema workshop at the Artopie association.
- "Beautiful Landscapes" part 3 at the Museum of the Pays de Sarrebourg.
- 7 months artistic residency, Shangyuan Museum, Huairou District, Beijing Province, China.
- Summer exhibition at Galerie 379, Nancy, France (group exhibition).
- exhibition in Karlsruhe as part of the 60th anniversary of the twinning Nancy-Karlsruhe.
- Creation of a fresco for kindergarten and elementary schools Badinter in Tomblaine, Meurthe-et-Moselle.
- Opening of artists' studios in Nancy, invited by gallery 379.
- production of a stopmotion video for the Californian reggae band Groundation.
- workshops with kindergarten and primary school children with the Meuse association Le Vent des Forêts.
- Participation in the European Days of Crafts, Rares Victor Gallery in Nancy.
- Participation in the 6 Weekend of Contemporary Art, Aquarium Museum and Hotel d'Haussonville in Nancy.
- "The Work of Dust", Departmental Council of Meurthe-et-Moselle in Nancy (personal exhibition).
- "Off the beaten track", Laxou town hall park, Meurthe - & - Moselle (group exhibition).
- "Creation in progress", national residence program Ministry of Culture and Médicis-Clichy-Montfermeil.
- Workshops with students from Bar-le-Duc with the Meuse association Le Vent des Forêts.
- participation in the Weekend of Contemporary Art, at Nancy station with the association Le Mètre Carré.
- Individual Assistance Grant for the Creation of the Greater East Region.
- exhibition of restitution of the residence Creation in Course, media library of Rambervillers, Vosges.
- exhibition at Sélestat in Saint Quirin Chapel with the Ergastule association, Haut-Rhin.
- residency and exhibition at Galerie 379, Nancy.